This is our testimonial page for our customers who have purchased a puppy or horse from us and hopefully pictures of their new addition.
Feb 2014-

Hi Missy,

I know I have said several times I would send you pictures of Neeya our 10 yr old girl. Her parents were Skylar and Raife. Would like to thank you for such a wonderful dog. She turned 10 in Nov, and we have enjoyed her every minute. These pictures are her in her younger years. When the time comes we will be contacting you for a new puppy. Thanks again for an awesome girl.

Judy Gould

Bristol, In
ANUBIS-Owned by Amanda Galas
4-20-13 Hi Missy! Just wanted to send some updated pictures of Anubis! He's almost 90 lbs now. :)
I'm not sure if you hear many updates on his sister, but I am curious if she is the same way. Anubis is not aggressive at all...he is an incredibly happy, playful dog. Very good genetics I guess!

Hope you're doing great!

- Amanda

Here is latest of William - he looks a lot like Raife. He's quite the protector for mommy. Damon (my husband) passed away 1 1/2 years ago and it's been me and Will for a while now but he is My Boy and he loves to take care of Mom. I'm so thankful to still have him. He was Damon's boy for 6 months before he died from cancer.
Thank you so much for sharing you special puppies with us.
Vickie L. Eason

Will-Owned by Vickie Eason in TN
Riddick-Owned by Tiff and Logan
Hi Missy!

Riddick is doing great. He's starting to get a little out of hand, so it's time to go get him neutered! Logan is throwing a fit, saying we should wait until he's 18 months. But when Riddick decides he wants something- it's getting hard for me to hold him back! He's still just as great as ever with our little girl. We are moving into a new house in 3 weeks. The back yard is larger and flat, so we can easily fence it in. Riddick and the kids will love it! Logan said as soon as we get a fence in he wants to come get another doberman. I think i would rather wait a few months to get setteled in. If you have puppies now- let me know- I know this is around that time of year. If not- next year works better for me anyway! Hope everything is going well!


Tiffany
6-14-2012 Hi missy
Sorry about not keeping in touch over the puppy you sold me from raifes last litter . I just wanted to send you a picture of him and let you know he is doing great. I seriously can't believe how big he's gotten since I picked him up at the Denver airport! Harely is definitely a big cuddle bug and is super lovable , by far the best dog I have ever owned so thank you for giving me such a great puppy . Attached is a pic of him that I took at the dog park today as u can see he loves the water too :)


HARLEY-Owned by Megan Fix
ZEUS-Owned by Gene Wolf (Rowen x Padre
ANUBIS-RowenXPadre owned by Amanda Galas TN
MAGGIE-Owned by Ben & Louise Smith (PadreXRowen)
Gunner-Owned by Messer family in TN
7-30-11

Gunner-he is so smart, he loves the kids and is very protective of them! he is a baby @ heart but seems mean to strangers. which is what i wanted. he sleeps in the bed with us every night. the shitzu still run the house though, we have a 6 lb shitzu that he is scared to death of!! so funny. thank you so much for saving him for me. i catch myself calling him Jackson which is my old dobe. that should tell you how much i think of him. He rings the door bell when he wants outside.

-Briane Messer
Titus-Owned by Randall and Sarah Todd
7-14-11

Hey Missy,

We just wanted to update you on Titus (Raife x Ruby). He is doing well, weighing 85 lbs at 15 months. We get compliments all the time about how beautiful and well behaved he is. He is so smart and has a very funny personality, always making us laugh! He loves chasing squirrels!We were sad to hear about Raife. So sorry for your loss.Hope you are doing well! Thank you for such a great companion!

Randall and Sarah
SARGE-7yrs owned by Brazeltons in TN
Thor at 15months-Owned by Tony in TN
Thor was sadly stolen from his owner Tony last year. :( He was too sweet for his own good. He was very attached to Tony. So sorry to hear about the loss of such a great dog, Thor.
Sadie-Owned by Bobby Covington of AL
Hey Missy
The " Princess" is great!!! She is the love of our lives. She's a big girl about 78 lbs , very tall and longed legged. Runs like a deer. Absolutely beautifull
You told me she was the sweetest of the litter and you were right. Very smart. Loves to catch the Frisby on the
run,loves the Dog Park. She is very healthy as well. Will send you a few picks from here but will send some pup pictures later. Thank you so much!!!
-Bobby Covington

CHILL-Owned by Sheritta H in AL
4-1-2011

Hi Missy -

Sorry it has taken me so long to get a picture to you. Seems like I just kept forgetting but the other day on our regular walk, I remembered to take my camera along. Riot is out of Raife & Jetta on March 2, 2009 so she just turned two. She is so smart. When I say "Stick em up," she sits up on her back legs and when I say "Bang you're dead," she falls over on her side. She does a lot of other stuff also but I just wanted to let you see how beautiful she turned out. Thanks again.

Charlene Hendrickson
RIOT- RAIFE X JETTA owned by Charlene in TN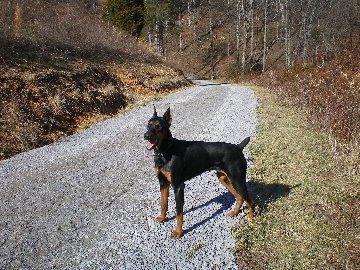 IZZY and KAIN-Owned by Holloways in TN
10-2010
Missy,
I just wanted to send you an update on Kain and Izzy (Raife x Jetta born July 2008), now just over 2 years old. They are both doing very well, and are very healthy and happy. They are well behaved and have great temperments and personalities. Kain weighs 87 pounds and Izzy weighs 70 pounds. Vet remains so impressed with them both and both are perfect weights for their builds. We love having them as part of our family.
Thank you again!!

Tracy Halloway


JASPER-Owned by the Finleys
Feb. 2011
Hi Missy,
Hope you are doing well! We're good, and Jasper has turned out to be the sweetest, most georgeous dobe boy we could have ever hoped for. He is spoiled rotten. I can't believe he will be two next month. I really need to send you pictures. He is tall, right at 29.5". He weighs around 98 lbs. We get compliments on him everywhere we take him. We may be interested in a puppy this summer/fall. We think he needs a playmate, and we are wanting a female this time. I see from your website that you may have a litter at that time. Can you tell me who the dam of the summer/fall litter will be?
Lorrie Finley
10-2010
Hi Missy! First, I'm so sorry to hear about Raif! I'm sure he will be missed forever. Here is a picture of one of his pups with Ruby, Keegan :-). Hard to believe he's not even a year old yet!! He's a beautiful dog and is a wonderful addition to our family. He's extremely smart and super sweet! He has the best temperament of any dog I've ever had. Any time I take him any where, I always get stopped and complemented on how gorgeous he is and how well behaved he is! Thanks again for a wonderful dog!!
Jennifer

Alexis-Owned by DJ Raymond
DAWN-RAIFE X RUBY owned by Mauricio & Monica Caste
10-28-2010

Hi Missy,

I was visiting your web site, as I do from time to time. We had purchased a red female from you back in 2003 from Mom Skylar and dad Raife. She has grown to be a wonderful girl. She did agility for a while and competed hard. She is a little older now so we do it just for fun now. I was so sorry to read about Raife and his passing. We have 3 dobies now and when the time comes I will be lookin your way for a new little puppy. Thanks again for such a wonderful Friend and Companion

Judy Gould

Bristol, IN.
Rhett, Bearhett, and Baby girl are all 3 by Raife and owned by a wonderful couple in FL...Judy and Steve. Im so thankful these brothers and sister can live together! More pics of them are below too when they all came to visit and pick up Bearhett as a baby!
Rhett and Bearhett owned by Judy and Steve in FL
7-2-2010
OH MY GOSH!!! shes a doll! hahaha the first two pics was taken last weekend..she is growing so fast and is so beautiful! we love her and is a blessing to us...also very smart and potty trained...thank you once again.
DJ Raymond, owner of Alexis (Raife X Ruby)
Hi Missy!

I just wanted to give you and update on Keegan (Sir Keegan's Red Reign). It's hard to believe we've only had him a week! He has adjusted so well here and it's like he was meant to be here. Everyone just loves him and he's the best cuddler ever! On the way home from picking him up he never whined and slept most of the way and at one point he stuck his head in Ryan's car seat and went to sleep. He's been very good with both kids :) At his well puppy check up he fell asleep half way through the exam and even slept through his shots! We had his ears cropped on Friday and he seems more annoyed with the e-collar than actually being in pain. The vet told us that he has a wonderful temperament and that we have a really good dog:) Keegan is the most laid back dog my husband and I have ever seen! Even our chihuahua likes him and that is very rare!! I can't thank you enough for breeding such wonderful, sound dogs. He's growing at an incredible rate and is extremely smart! We hung bells on the back door this past Tuesday to teach him to ring them when he wants to go outside and he's already learned to do it!! I could go on and on about how wonderful he is, but I'll spare you the long email! I'll send you pics of him soon. Thank you again for such a wonderful dog, we'll take good care of him!
Maverick-Dobie in Back, owned by Nix Family
Hi!

This is Tory. She is a happy, healthy, shiney doberman with a mind of her very own. She is a very kind, sweet animal but typical when it comes to protectiveness.

She actually shares her food with the kittens!

She weighs approximately 75 lbs. She has awsome skin/coat as you can see from the picture.
We only feed Eukenuba.

Nice to hear from you,

Dee Cook

Kali & Badii. 5 mths. BLUES Owned by Derek of GA
Sasha & Littlejohn Family
Missy, 1-2-2010

Happy New Year 2010! I wanted to update you on Sasha's progress. She is such a loving, spunky, and energetic girl. She makes me laugh with her little mischiefs but she is learning to follow commands. She is learning to sit, stay, heal, no, and go home (kennel) so far. Her house breaking is not great yet but she is getting better. She looks amazing since the ear crops and she is going to be a big girl! She is just gorgeous, she has been a wonderful addition to our family. I am sending a recent picture we took and sent to our families across the states. Hope you will enjoy it as well. And thank you for being so professional and helpful when we bought her from you. It was nice seeing how well taken care of your dobermans were. NO puppy mill here!! And thank you for that. Hope you and your family have a prosperous 2010!

God Bless,

Littlejohn The Littlejohn Family

Judy, Steve, Rhett, Baby Girl, & New pup
Rhett-3yr old, owned by Judy and Steve
Baby Girl-2yr owned by Judy and Steve
Hannah-owned by Suzanne Barron of NC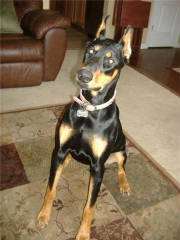 Missy,

I just wanted to update you on Kain & Izzy. They went to the vet on Friday. At 17 weeks Kain is a massive 40 pounds. Izzy is a respectable 34 pounds. Vet thinks they both look fabulous and is thrilled with how healthy they both are. They are both perfect weight for their builds. Their ears are so beautiful and the vet loves how they turned out. (Thanks for the referral to Dr. Mike.) He did an awesome job. Even Dr. Mike was surprised that at week 2 both of their ears were standing since we did a longer cut. We are planning to have Izzy fixed at 6 months of age - vets preferred age. We plan to keep Kain intact.

I can't tell you how much I have appreciated all you have done for us and I am so thankful every day to have such wonderful Dobermans in our home. If you ever have a potential buyer that wants a reference you can give them my contact info.
Tracy
Brahma-RIP-Owned by Lisa Narron
Missy, We bought a pup from you in 2003. "Brahma" was the light of our life. He was big and beautiful and had the best personality of all the dobe's we've had. He was poisoned by rat bait. It broke our hearts. He weighed over 100lbs. We have two now male and female. We would love to have another big boned male like Brahma. I see you still have Raif, who was Brahmas dad. When is the next litter due and we would like to put a deposit down for a pup. I have attached a picture of Brahma.

Thanks and I hope you had a Happy Thanksgiving. Lisa Narron
Beau Titan-4 Years Old owned by Deb in MN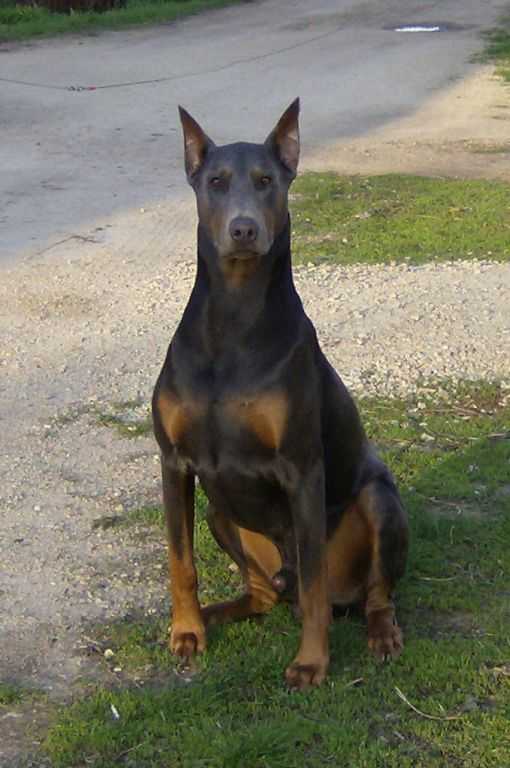 Beau Titan~copywritten by Kishma Photos
"ELI"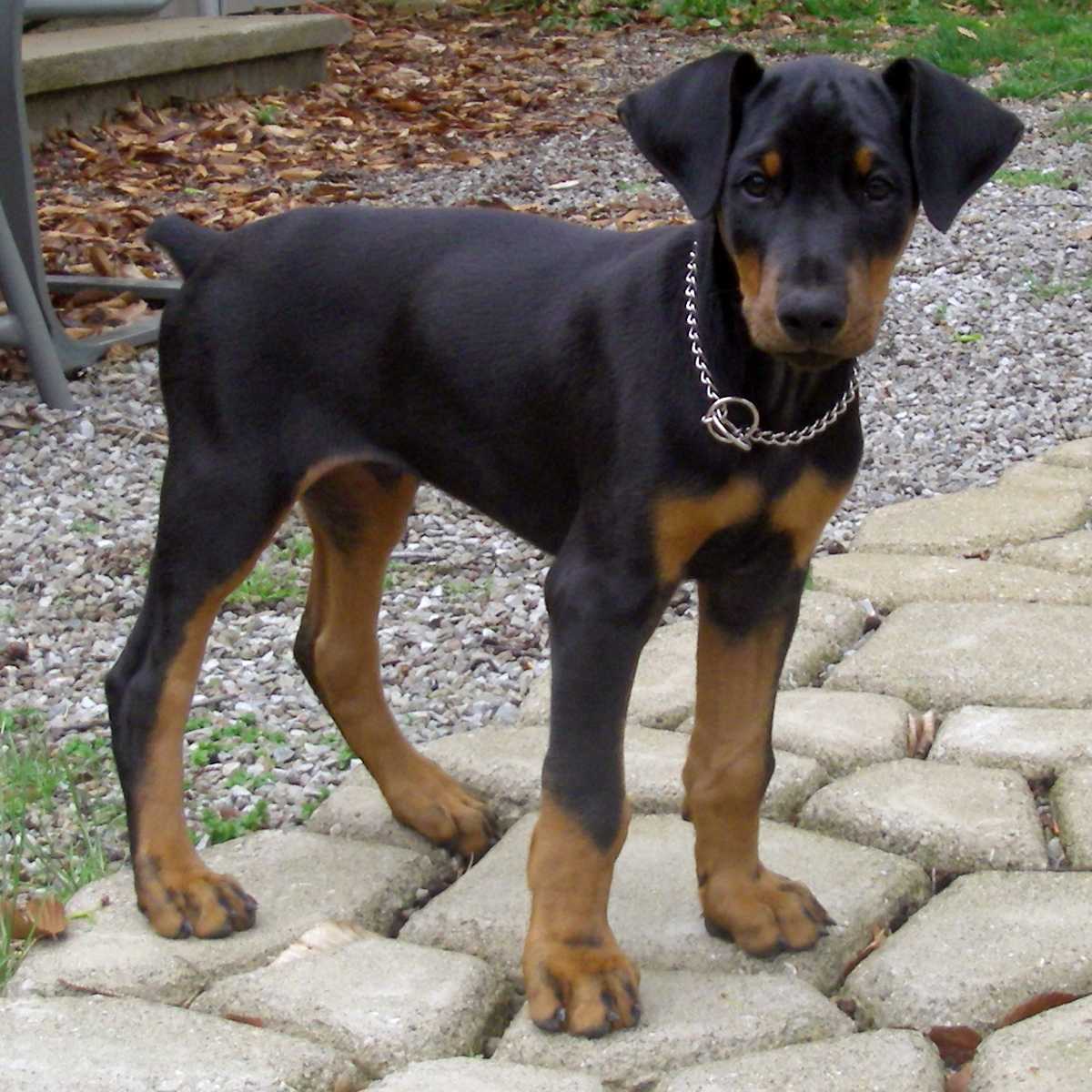 5-23-2008

Hi Missy,

Just wanted to touch base and give you an update on Eli. He's doing great and so eager to please. We take him everywhere! He is so good looking that he is the center of attention wherever we go and we've gotten nothing but compliments on him.

We're thrilled with his learning capability! By 8 1/2 weeks old, he was completely house trained! He's figured out that every time he does his business outside, comes in and sits down, he'll be rewarded with a treat! He's learned to heel, sit, stay, shake, and fetch. While playing fetch, he sits for the ball to be thrown, brings it right back, drops it at my feet and then sits down and will wait till I throw it again!

Sherri Sakos and Family "Eli"

4-20-2008 "Eli" and the Sakos Family from OH (Raife X Armani)

Hello Missy!!

I sent out a "Look Who's Here" announcement for Eli and thought I'd send it your way as well. (If you can't open it let me know.) He did wonderfully on the trip, but as luck would have it, it was SNOWING when we got home!! Poor little guy! He's adjusting to our family and getting very spoiled by all of us! :)

The weather is finally starting to get warmer so we walk to school to pick up the boys and he gets so excited to see them! He's already been introduced to the baseball fields and all the noise that goes with it.

He's a whopping 11 pounds and growing! He's got his surgery date for May 7th to be micro-chipped and have his ears cropped. We're very pleased with his temperament so far! You did a great job socializing him and getting him ready to be great member of the family! I'll update you with more photos later.



Sherri Sakos

5-11-08 UPDATE~

Hey Missy! Just wanted to send you some new pictures of Rox. He is about 40-45 pounds now. He's getting so big! Jonathan's family has a river camp and he loves going down there and playing. These pictures were taken down there. He is non stop playing when he's down there and always wears himself out. In one of the pics he is laying in the backseat of Jonathan's truck. He didn't even make it to the house before he fell asleep and we only live about 5 minutes away. He is the best looking doberman I have ever seen! Everyone compliments him and asks where we got him. He is absolutely PERFECT in my opinion and couldn't ask for anything better. He is my world and I wouldn't trade him for anything at all. Thanks for everything!! CRYSTAL & JONATHAN of IN

2-11-08

Hey Missy! How are you doing?? I just wanted to write you and tell you that Rox is doing sooooo great! He already weighs 15 pounds! We are taking him to the vet this Friday to get his ears clipped. He's pretty much potty trained now and spoiled as ever. He tries to play with my cat...it's hilarious! We take him everywhere we go and he has gotten along with all of the dogs he has come in contact with. Jonathan has a 90 pound boxer and Rox is not afraid of him one bit. He plays hard with him. It's fun to watch. I would love to show you pictures but I can't find my usb cable to my digital camera. I'll have to buy me another one and i'll send you some pictures. He's so clumsy!!! Everyone has complimented him and wanted to know where we got him. I've told a lot of people about you so you may be getting some calls. And you're right..he chews on Everything! Well just thought I would write you and tell you how well he's doing. Thanks for everything!!

Crystal and Jonathan of IN and "ROX"
---
Hey Missy,

I just wanted to give you an update on REUBEN, he is the red Dobie we bought from you. He is doing great and growing like a weed; we will be cropping his ears soon. The one of him and Michael on the ride home is too cute he nuzzled him the whole way. Reuben is such an affectionate puppy and loves to be held just like a baby. We take him with us everywhere we go and no one ask about us anymore they just want to know about Reuben. That gives you a clue as to how sweet he is, it makes me want to have a house full of them!!! I will send you occasional updates but I just wanted to share a few pictures. Thanks again! Reuben has made a big difference in our lives and we both love him very much.

Sincerely,

Robyn Ray
1-31-2008 "Rose" Owned by Harriet of VA Jetta X Raife Dec. 07 Litter.
Dear Missy,
I am very pleased with "Rose." She is bold; holds her ground with strangers. Funny. Intelligent: she's already pretty good at retrieving, although I have to pretend to be uninterested. Pretty well house-broken if I'm prompt. Responsive. Quiet; very little howling and whining except the first two nights in the kitchen crate. Active. Healthy (my vet was pleased). Eats well. Definitely not neurotic. Just sensible, playful, confident. I think I have the dog I want in her.
And she's beautiful too. Although, as you well know, nothing is certain about a young animal, it does look like she'll be plenty good enough to show locally if the children want to try it.I'm nervous about the ear cropping. Never been through that. But I'm told the vet is excellent and has done many, many ears. His assistant assured me everything would go well, so I'll take her in maybe after I get back from my watercolor workshop in March.
I'll send pictures later.
Harriet
11-15-07

Hello Missy,

We would like to be put on the list for the up coming fall litter (December)

We purchased a male puppy of Raife and Jetta from the last November litter.

We are looking for a Red Female.

We named our boy Rhett and are very pleased with his disposition.

8-22-07 Hey Missy,

Just thought I would send you a current photo of Beau Titan. He is 3 years old now is doing pretty good. He is a real sweet heart and very tolerant of the Doberman pup we got last year (Little Lady Hawk). I was lucky to find a female of the same bloodlines as my old Dillon who's passing is what brought me looking for Titan. They look very cute together. She is rather hyper and he is very relaxed - so they are kind of an odd couple.

Next week I am taking Titan in for his International Therapy Dog evaluation. I think he will do great. We shall see!

Have a great day.

Deb
7-16-07 Amanda Zimmer of CA purchased "RVF SUPER STREAKIN"
Just wanted to let you know Streak is doing great he loves attention an likes to follow you around. I also wanted to say THANKS for being so honest about him in everyway. He is everything you said and more.
Ty Marks and PASSEM UP BUBBLIN had an excellent weekend at the Fortune 5 in Harriman,TN! They had 3 great runs and placed 10th in the 1D average out of 350 really tough barrel horses! I was so proud, They bought Passem Up Bubblin from me in 2006. This team is going to be tough!!
Also Big congrats to Amber Cox on THE MEDICINE WOMEN on a good weekend at the Fortune 5 in Harriman,TN!
BIG CONGRATS TO VONDA BOWLING AND RVF RENE RUNON FAITH!!! Great Lakes National NBHA Reserve Champions-2007 winning over $1,000! Way to go and thanks for the update.
"RENE AND I TOOK MOST OF 2006 OFF TO BUILD A NEW HOME/BARN
AND DECIDED TO GO TO THE 2007 GREAT LAKE NATIONALS. AND WAS THE RESERVE CHAMPION IN THE 4TH DIVISION. I HAD A MARE COLIC ON SATURDAY NIGHT AND WAS UP TILL 230 WITH HER AND HAD TO RIDE THE NEXT DAY IN THE FINALS AT 830 (FIRST 10 OUT) SO I WASN'T MUCH OF A RIDER THE HORSE DID ALL OF THE WORK.. I HAVE BEEN PLEASED WITH RENE.
THANKS A MILLION"
VONDA
Missy, I just wanted to send you an up-to-date photo of Santo. The attached picture was taken on April 16, 2007. Santo still thinks he is a puppy! You can see he is standing there with his ball ready to play catch.

Santo is just wonderful with my granddaughter Taylor and he is so protective of the family. I could not have picked a better breed for my granddaughter. Again, thank you for everything!

Sincerely,

Nancy, Chris & Taylor Putman

Decatur, AL
Missy, 12-7-2006
Hi how are you? We are wonderful and Stunner has turned out perfect. I
am sure I have said this before but he is the most beautiful Doberman I
have ever seen. There has not been one like him here in Missouri. We
have finally purchased our land out in the country and will begin
building soon. Upon completion of that I will be able to breed my dogs.
In the near future I will be contacting you for a female as I have
always talked about. I just want to thank you again for everything. Here
are some new photos of Stunner.
Stunner-Owned by Cory in MO (Raife X Belle 2003)
Missy,

Hi! How are you? Here is a recent picture of our Tory. What a great dog. We love her so much. She is 8 months at this point. I'm sure you appreciate getting updated on your pups. Also, after researching, we decided the natural look was for us with the ears.

She a a very healthy dog. she really enjoys her family, her walks, deer watching, crow watching. She know about 50 tricks, slight exaggeration, she knows a lot of tricks. We run together and she loves that.

Someone could probably make some money training these dogs as companions for runners. I think there could be some market in that.

E-mail back so I know you got this.

Thanks!
Dee
"Winston" owned by Adrian Pattillo Skyler X Raife
Winston is doing great he's a big boy weighs about 90 pounds. He is super spoiled and has never met a bed he did not like. He is very smart and can do all kind of tricks like turning off the lights and going through these toy tunnels just by saying lights and tunnel. He has a good temperment and is very loving with his family, like most dogs he does not like strangers around or in his home. He is great at the dog park and gets along great with other dogs. When we are out with him he tends to stick right with us and is not fond of other people he still ducks when strangers try to touch him. My folks live with me and my mom does not feel to good and Winston seems to have picked up on this and made it his personal goal to guard her so I have to be careful about who interacts with mom. He is a great dog and is loved dearly. I am on my sons laptop so can't send pictures when I get a chance I will send you some photos.

I just wanted to send some updated pictures of
Charlie. She is doing great, and is very healthy and
happy (28 lbs!). We love her and her crazy ears.:)
Hope your pups are doing well!

Jen Garrison

CHARLIE-2006 Litter Owned by Jen Garrison of IL
2-24-2007
Hey Missy,
Just wanted you to know how good Magnum is, every one fusses at how good looking he is, and he is so smart. I have been thinking I want to breed him, actually use him for stud. I will be sending recent pictures sometime today thanks for being a good breeder, with an excellent blood line

Melanie

Zorro's 44 Magnum

SANTO-Owned by Nancy,Chris, and Taylor of AL
SANTO is out 2006 litter by Raife X Jetta
SAVANNAH-Owned by Holly and Trevor of WI
5-20-06 From Holly G. in WI, purchased "Savannah" from 2006 litter(Jetta X Raife)
Hi Missy,
Just wanted to check in and let you know how Savannah was adjusting to her new home. I will send pictures soon! She is our little princess... she cried the first few nights as expected, but now she is feeling right at home. She has grown so much already. I am just in love with her!! So is Trevor. We can't get enough. We are already thinking about the future and talking about possibly breeding her eventually!!!
Theres really no Doberman representation in WI. We get so many compliments on her and everyone asks where we got her... so if you start hearing from a lot of Wisconsinites, I wouldn't be surprised.

She and our minpin became fast friends. Even though she is now bigger than him... they are just two pees in a pod. They wrestle and play most of the day and then snuggle at night before bedtime . But it is just priceless watching them snuggle. I think it helped with Savanna's transition - missing her litter mates and all.

Hope all is well. Thank you so much for everything! We are having a blast. I'll be in touch!!!

Holly

1-15-06 Hi Missy,
I got a fawn pup from you August 2004 (Parri). I have a friend who keeps Parri when I'm out of town. She is such a good dog that he had threatened not to give her back the next time he watches her. Anyway, he is interested in a puppy.
I will send you some update pictures of Parri as soon as I get them developed.

Georgina

MAX-Owned By Belinda E. of AL
Missy,

I wanted to let you know that Max is doing GREAT! He is growing into a big boy already weighing 38 pounds. He seems to enjoy living in my loft and has many friends from our morning walks thru downtown and also loves spending time on the water!! He is a wonderful dog. I'll keep you updated.

Belinda Emerson
RVF BULLZEYE- Owned by Abby Jo V. of MN
12-8-2006

Hey Missy,

I just picked Bullzeye up from 90 days of training. I'm proud to have him in my barn. I could not be more pleased with him. He is such a great ride. I'm going to use him for Ranch Rodeo's this winter. He seems to really enjoy chasing cows. His ears go flat back when he walks into the cows. Just two more years and he'll be running barrels! Thanks for one of the best horses ever!

Take Care, Abby Jo Viessman

~ Abby Jo Veissman, owner of RVF Bullzeye, a colt bred and purchased from River View Farms. RVF Bullzeye is by Bully Bullion X Gota Lota Brass Flit.
Congrats to Vonda Bowling of IN and RVF Rene Runon Faith ( Bred and sold by River View Farms as a 2 yr old ) for winning the 4D at the NBHA Great Lakes Nationals! This is only the 5th time for Rene to run in open competition, she is only a 4 yr old! WAY TO GO!
"RVF Rene Runon Faith is the smartest horse I have ever owned. She will be in the 1D in no time. This was only the 5 th show she has ever ran in, I am thrilled with her"
"Stunner"